II. INTERNATIONAL COLORECTAL SURGERY CONGRESS
XIX. NATIONAL COLON AND RECTAL SURGERY CONGRESS
XII. NATIONAL, I. INTERNATIONAL COLORECTAL SURGERY NURSING CONGRESS
Dear Colleagues,
Turkish Society of Colon and Rectum Surgery has been successfully carrying out its studies in educational, scientific and social fields since its establishment in 1990. I am proud to announce that we will organize the "II. INTERNATIONAL COLORECTAL SURGERY CONGRESS, XIX. NATIONAL COLON AND RECTAL SURGERY CONGRESS and XII. NATIONAL, I. INTERNATIONAL COLORECTAL SURGERY NURSING CONGRESS" on May 16-20, 2023 at Susesi Convention Center in Antalya.
I'm honored that our congress, held every 2 years by the Turkish Society of Colon and Rectum Surgery, will be held in person at its traditional timetable of May. Moreover, we will have the opportunity to feast on the scientific information of our congress along with the excitement of the "Commemoration of Atatürk, Youth and Sports Day" all together.
Esteemed surgeons from all around the world, experts in their surgical and scientific fields, will be hosted at our congress and will share their experiences with us. Considering the international nature of our congress and the qualified scientific program, we expect many participants from abroad. OFFICIAL CONGRESS WEBSITE
TSCRS Virtual Academy: Why should I use it?
TSCRS Virtual Academy is an online training platform that contains 67 modules with 501 lessons.
There are 151 worldwide professional trainers.
All presentations are video supported prerecorded trainings.
It covers all the colorectal surgery curriculum.
Almost all surgical procedures related to colorectal surgery and proctology are presented with training videos.
All lessons are updated whenever necessary.
No society membership is required, signing in to the web site is all you need.
TSCRS Virtual Academy is free of charge.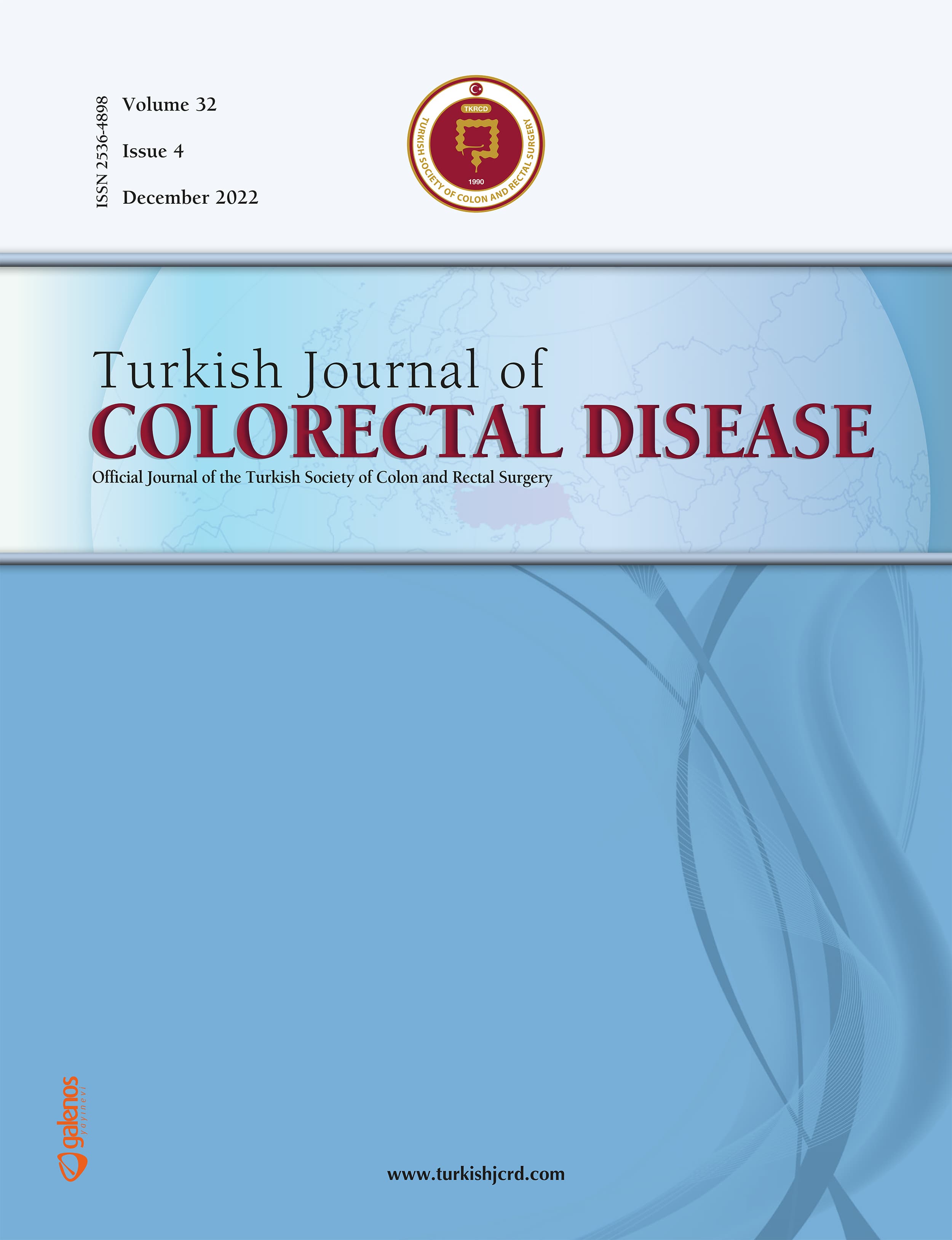 Turkish Journal of Colorectal Disease
Volume 32, Issue 4 | December 2022
Editorial
Fatma Ayça Gültekin
Invited Review
The Concept of Complete Mesocolic Excision
Werner Hohenberger
Current Management of Colovesical Fistula
Muharrem Oner, Maher Aref Abbas
Research Article
Anal Fissure Patients: Before Treatment, First Consider Irritable Bowel Syndrome, Defecation Disorder and Psychopathology
Neriman Şengül, Özden Arısoy, Direnç Yiği,t Ufuk Arslan
Evaluation of Activity of Perianal Fistulas by Diffusion- Weighted Imaging
Levent Soydan
Comparison of Microbiological Profile of Drained Intra-Abdominal Abscess in Patients with Crohn's Disease and Colonic Diverticulitis
Reem F. Al-Rubaie, Hayder Alqaisi Alaa, El-Hussuna
Letter to the Editor
Can Artificial Intelligence be as Effective in the Treatment of Anal Fistula as in Colorectal Surgery?
Semra Demirli Atıcı
Congresses
Symposiums
Courses
18th: Turkish Colon and Rectal Surgery Congress
30 Kasım 2021 Salı
Susesi Otel and Convention Center - Antalya, Turkey
New Horizons in Colorectal Cancer
09 Kasım 2018 Cuma
Koç University School of Medicine, İstanbul, Turkey
Difficult Cases and Their Solutions in Colorectal Surgery
16 Mart 2018 Cuma
Almira Hotel, Bursa, Turkey
22nd: Laparoscopic Colorectal Surgery Course
01 Eylül 2020 Salı
İstanbul, Turkey
3rd: Robotic Colorectal Surgery Course
27 Ağustos 2020 Perşembe
İstanbul, Turkey