Turkish Journal of Colorectal Disease
Volume 32, Issue 4 | December 2022
Editorial
Fatma Ayça Gültekin
Invited Review
The Concept of Complete Mesocolic Excision
Werner Hohenberger
Current Management of Colovesical Fistula
Muharrem Oner, Maher Aref Abbas
Research Article
Anal Fissure Patients: Before Treatment, First Consider Irritable Bowel Syndrome, Defecation Disorder and Psychopathology
Neriman Şengül, Özden Arısoy, Direnç Yiği,t Ufuk Arslan
Evaluation of Activity of Perianal Fistulas by Diffusion- Weighted Imaging
Levent Soydan
Comparison of Microbiological Profile of Drained Intra-Abdominal Abscess in Patients with Crohn's Disease and Colonic Diverticulitis
Reem F. Al-Rubaie, Hayder Alqaisi Alaa, El-Hussuna
Letter to the Editor
Can Artificial Intelligence be as Effective in the Treatment of Anal Fistula as in Colorectal Surgery?
Semra Demirli Atıcı
The target audience of Turkish Journal of Colorectal Disease includes surgeons, pathologists, oncologists, gastroenterologists and health professionals providing service for colorectal patients. The aim of Turkish Journal of Colorectal Disease is to publish original research papers of the highest scientific and clinical value at an international level. In addition, it includes review articles, case reports, technical notes, letters to the editor, editorial comments, educational articles and conference/meeting announcements.
The Turkish name of the journal was formerly Journal of Colon and Rectal Diseases and the English name of the journal was Journal of Diseases of the Colon and Rectum.
Turkish Journal of Colorectal Disease is indexed in TUBITAK/ULAKBIM (The Scientific and Technological Research Council of Turkey/ Turkish Academic Network and Information Center), iDirectory of Open Access Journals (DOAJ), British Library, ProQuest, Root Indexing, IdealOnline, Gale/Cengage Learning, Index Copernicus, Turkish Citation Index, Hinari, GOALI, ARDI, OARE, J-GATE and TurkMedline.
Turkish Journal of Colorectal Disease is an independent, peer-reviewed, international journal printed both in Turkish and English. Articles are evaluated in accordance with "double-blind peer review" process by both the reviewers and authors. The Editorial Board of the Turkish Journal of Colorectal Disease endorses the editorial policy statements approved by the World Association of Medical Editors (WAME). The journal is in compliance with the standards presented by the International Committee of Medical Journal Editors' (NEJM 1997; 336:309-315, updated 2001), required for manuscripts submitted to biomedical journals.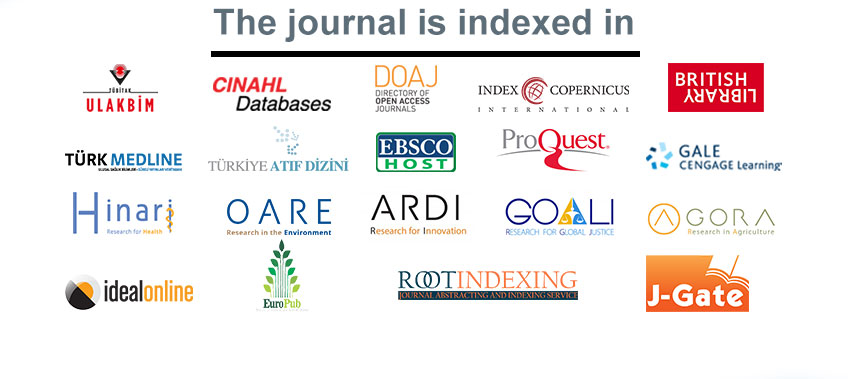 2022
December 2022 | Volume 32, Issue 4 İncele >>
Sepmtember 2022 | Volume 32, Issue 3 View >>
June 2022 | Volume 32, Issue 2 View >>
March 2022 | Volume 32, Issue 1 View >>
2021
March 2021 | Volume 30, Issue 1 View >>
June 2021 | Volume 30, Issue 2 View >>
September 2021 | Volume 30, Issue 2 View >>
December 2021 | Volume 30, Issue 2 View >>
2020
March 2020 | Volume 30, Issue 1 View >>
June 2020 | Volume 30, Issue 2 View >>
September 2020 | Volume 30, Issue 3 View >>
December 2020 | Volume 30, Issue 4 View >>
2019
March 2019 | Volume 29, Issue 1 View >>
June 2019 | Volume 29, Issue 2 View >>
September 2019 | Volume 29, Issue 3 View >>
December 2019 | Volume 29, Issue 4 View >>
2018
March 2018 | Volume 28, Issue 1 View >>
June 2018 | Volume 28, Issue 2 View >>
September 2018 | Volume 28, Issue 3 View >>
December 2018 | Volume 28, Issue 4 View >>
2017
March 2017 | Volume 27, Issue 1 View >>
June 2017 | Volume 27, Issue 2 View >>
September 2017 | Volume 27, Issue 3 View >>
December 2017 | Volume 27, Issue 4 View >>
2016
March 2016 | Volume 26, Issue 1 View >>
June 2016 | Volume 26, Issue 2 View >>
September 2016 | Volume 26, Issue 3 View >>
December 2016 | Volume 26, Issue 4 View >>
2015
March 2015 | Volume 25, Issue 1 View >>
Special Edition | Volume 25, Issue 1 View >>
June 2015 | Volume 25, Issue 2 View >>
September 2015 | Volume 25, Issue 3 View >>
December 2015 | Volume 25, Issue 4 View >>
2014
March 2014 | Volume 24, Issue 1 View >>
June 2014 | Volume 24, Issue 2 View >>
September 2014 | Volume 24, Issue 3 View >>
December 2014 | Volume 24, Issue 4 View >>
2013
March 2013 | Volume 23, Issue 1 View >>
June 2013 | Volume 23, Issue 2 View >>
September 2013 | Volume 23, Issue 3 View >>
December 2013 | Volume 23, Issue 4 View >>
2012
March 2012 | Volume 22, Issue 1 View >>
June 2012 | Volume 22, Issue 2 View >>
September 2012 | Volume 22, Issue 3 View >>
December 2012 | Volume 22, Issue 4 View >>
2011
March 2011 | Volume 21, Issue 1 View >>
June 2011 | Volume 21, Issue 2 View >>
September 2011 | Volume 21, Issue 3 View >>
December 2011 | Volume 21, Issue 4 View >>
2010
March 2010 | Volume 20, Issue 1 View >>
June 2010 | Volume 20, Issue 2 View >>
September 2010 | Volume 20, Issue 3 View >>
December 2010 | Volume 20, Issue 4 View >>
2009
March 2009 | Volume 19, Issue 1 View >>
June 2009 | Volume 19, Issue 2 View >>
September 2009 | Volume 19, Issue 3 View >>
December 2009 | Volume 19, Issue 4 View >>
2008
March 2008 | Volume 18, Issue 1 View >>
September 2008 | Volume 18, Issue 3 View >>
December 2008 | Volume 18, Issue 4 View >>
2007
March 2007 | Volume 17, Issue 1 View >>
June 2007 | Volume 17, Issue 2 View >>
September 2007 | Volume 17, Issue 3 View >>
December 2007 | Volume 17, Issue 4 View >>